Description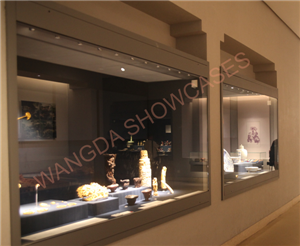 Built-in/recessed wall museum display cases|showcases|display cabinets\vitrines are built into wall or false wall.This design ingeniously makes enough use of wall fabric to extremely save more exhibition room for museums.Full support from the wall fabric immensely increases the security and stability of the wall display cases.Recessed wall display cases usually come with solid back,solid sides but only glass front.Solid back can be applied as shelving system mounting. It is applicable to wide range of medium to large exhibits like costume, natural history, weapons, ceramics, silverwares,banners,memorabilia, archaeology, sculpture, ethnography and industrial machinery.
Display cases are built into niche of wall fabric,with display case sizes to be customized.
Glass front only or sometimes glass front/left or front/right or glass front/back.Non-glazed panes to be built by structural steel and ZF-MDF panels with fabric-dressed for interior dressing.
Anti-bandit ultra clear and/or anti-reflective safety glass panels are frame-lessly bonded with ultra clear neutral UV adhesive and UV bonding technology for building transparent display space of display cases.Glass to be ultra clear with low iron content and/or anti-reflective with reflectivity less than 1% and light transmittance more than 97%.The thickness of glass panels to be not less than 5+1.52+5mm, i.e. at least 4 layers high intensity PVB film interlayers laminated between 2 sheets of 5mm thick glass panels, to meet EN356-P4A,the international safety criteria of museum grade glass.Glass panels to be fabricated at high precision with tolerance less than ±0.01mm and with 45° chamfering along glass edges.
Skeleton of display cases to be built by low carbon square and/or rectangular structural steel,seamless zero-oxygen welding,with folded steel cladded externally.
Environment-friendly and inert materials with no VOCs released for non-hazardous internal display space.Bauman Creation fabric from Switzerland for interior dressing, mechanical securing.
Dust-free and airtight construction for internal display space, with air exchange rate not more than 0.1 per 24 hours between internal display space and external space.
Durable,waterproof,rustproof,anti-fire and eco-friendly epoxy resin powder coating for the surface of all metal parts.
Protective and dimmable lighting system such as LED spotlights/light panel/track light/Fiber Optic light heads or combination, with UV,IR and heat isolated for lighting into display space
Hinged opening or pull & slide opening system.Motor-driven and wireless remote-control system can be customized for options.
Lockable facility box for silicon gel tray for passively-controlled RH 40%-60%, or electronic microclimate system from Canada for actively-controlled humidity 20%-80% and air purifying.
Cantilevered or suspension rod shelving system with height-adjustable glass shelves for flexible exhibition.
Abloy locks from Sweden,registered key system, key exchange rate at 13000000000.