On June 28, 2020, Wu State Culture Museum (and "Wuzhong Museum") in SuZhou was grandly opened. All the galleries of this renowned museum are equipped with  customized museum showcases by WANGDA SHOWCASES, in compliance with the latest showcase design concepts and the highest EU technical standards of museum showcases.
The Wuzhong Museum,based on the rich historical accumulation of Wu culture, stands on the bank of Dantai Lake with the latest appearance. With 10,000 cultural artefacts collected, The Wuzhong Museum come with a total construction area 18,600 square meters, and the exhbition area covers ​​8,500 square meters.
The main building  comes with three floors above ground and one floor underground. The exhibition hall is mainly located on the first and second floors of the hall, including two special-theme exhibition halls, four permanent exhibition halls and an education center, academic lecture hall, multi-function hall, coffee and cultural and creative areas, etc. It is a comprehensive museum integrating cultural display, cultural heritage research, public service, social education, leisure and entertainment and other functions.
WANGDA SHOWCASES customized all the high-end museum display cabinets and technical services for Wuzhong Museum, supporting Wuzhong Museum for the fantastic representation of ancient Wu State Culture to the public and the inheritance of Wuzhong's history.There are two permanent exhibitions of "Archaeological Exploration Wuzhong" and "Fengya Song Wuzhong".
"Archaeological exploration of Wuzhong" is composed of three main lines of Wu Dishengmin, Wu Guochunqiu, and Big Bang. It mainly interprets the origin, development and characteristics of Wu culture from the perspective of archaeology.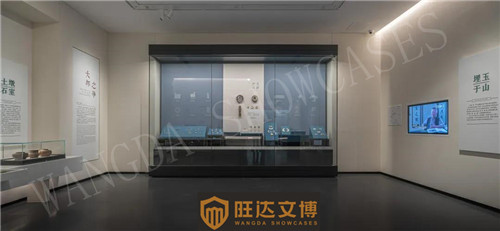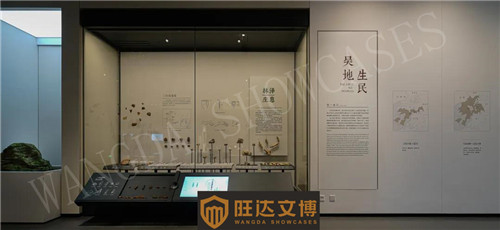 "Feng Ya Song Wu Zhong" includes three parallel exhibitions of "Wu Feng", "Wu Ya" and "Wu Song", in conjunction with "Archaeological Exploration of Wu Zhong", to interpret and display Wu Zhong's special products and cultural relics of Wu Di, The inheritance of Wu culture and other contents interpret the connotation of Wu culture from multiple angles and in all aspects.